(1) Users
This page contains all the detailed information about customers participating in the 3 marketing programs above.

You can easily observe and grasp customer reward information such as total rewards earned, total rewards used, reward balance, etc. Besides, you can also quickly view a customer's information, their reward history, as well as their sponsored friends.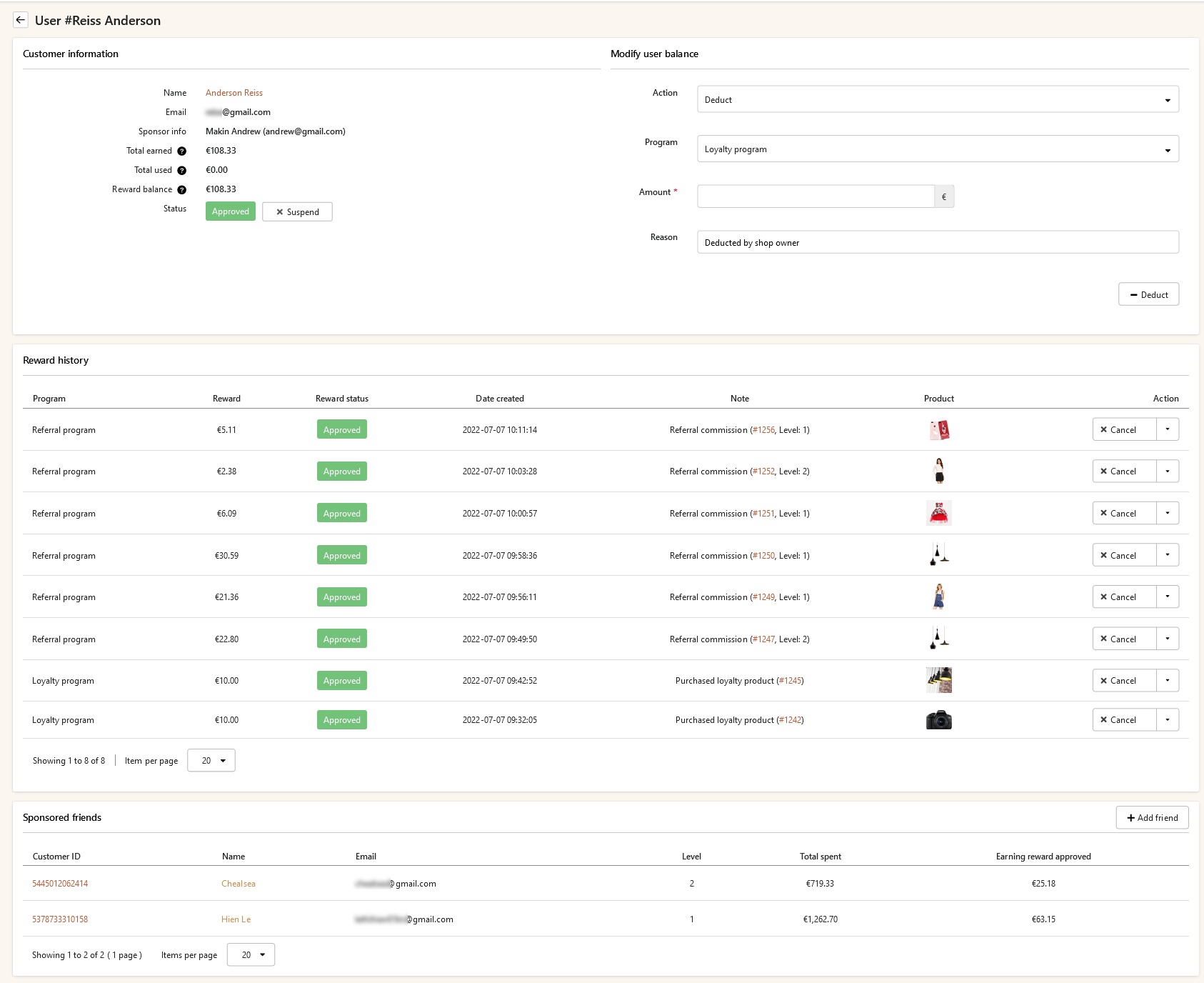 (2) Mail configuration
2.1 Mail settings
"Loyalty, Referrals & Rewards" app supports linking with the most popular mail services today, select a mail host to send email.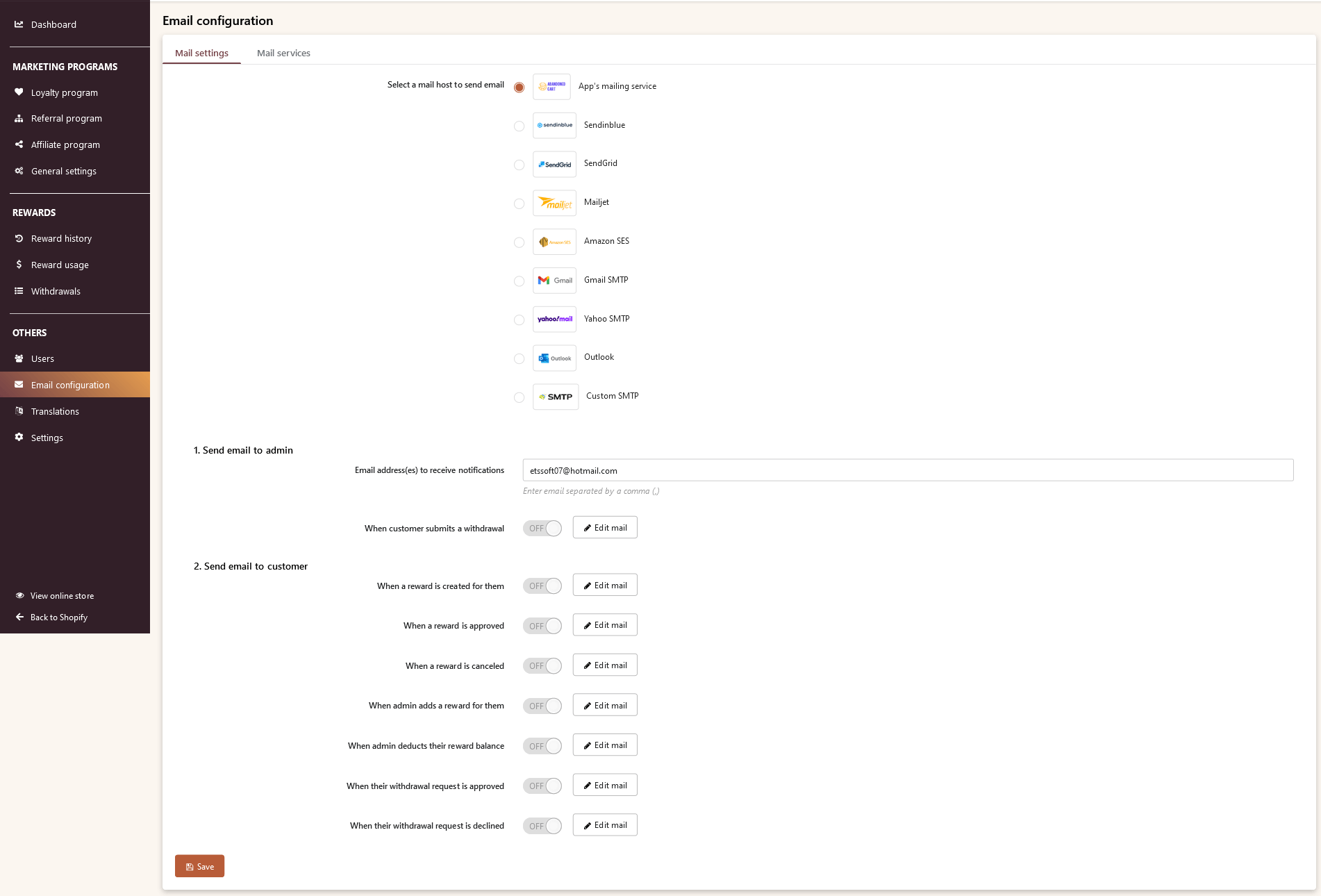 Send email to admin:
Enter email address(es) to receive notifications
Turn on/off the "When customer submits a withdrawal" option if you want/don't want to receive notification emails when customers send withdrawal requests
Edit email content if necessary
Send email to customer:
We offer a variety of options for when to email customers (when a reward is created/approved/canceled, etc.). Read and enable the options that suit your store's needs. Edit email content for each option if needed.
2.2 Mail service
The supported email services:
Sendinblue
SendGrid
Mailjet
Amazon SES
Outlook SMTP
Gmail SMTP
Yahoo SMTP
Custom SMTP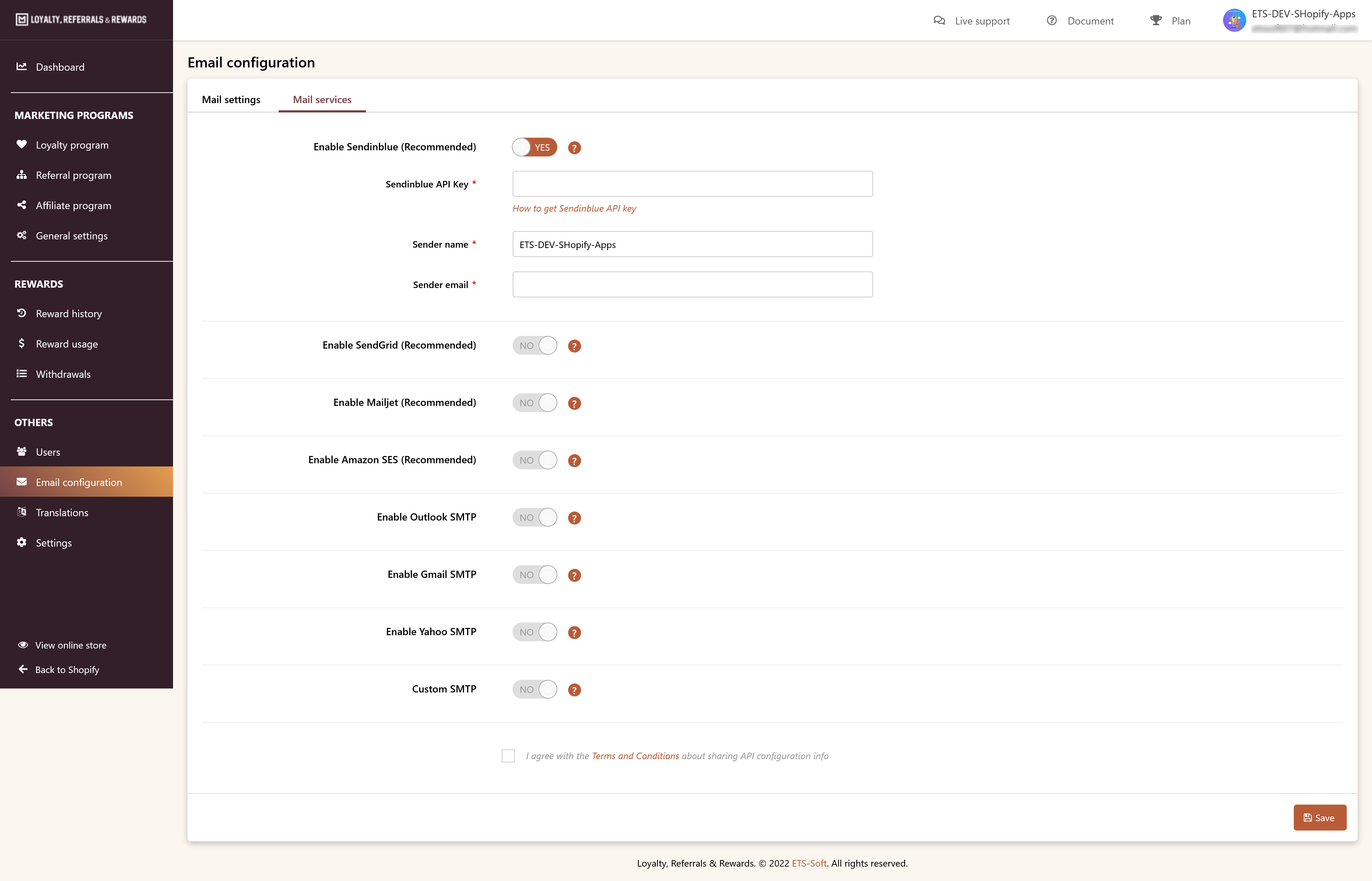 You only need to enable the email service you want to use and fill in the required information.
To learn how to get the API key for the selected email service, please click on the instruction link below each input field.
Tick on the "I agree with the Terms and Conditions about sharing API configuration info" tick box and save.
3.      Translations
Navigate to the "Translations" page and you can completely set up alternative text for title, button, page title, page content, messages… to display on your storefront to match the current language of the store.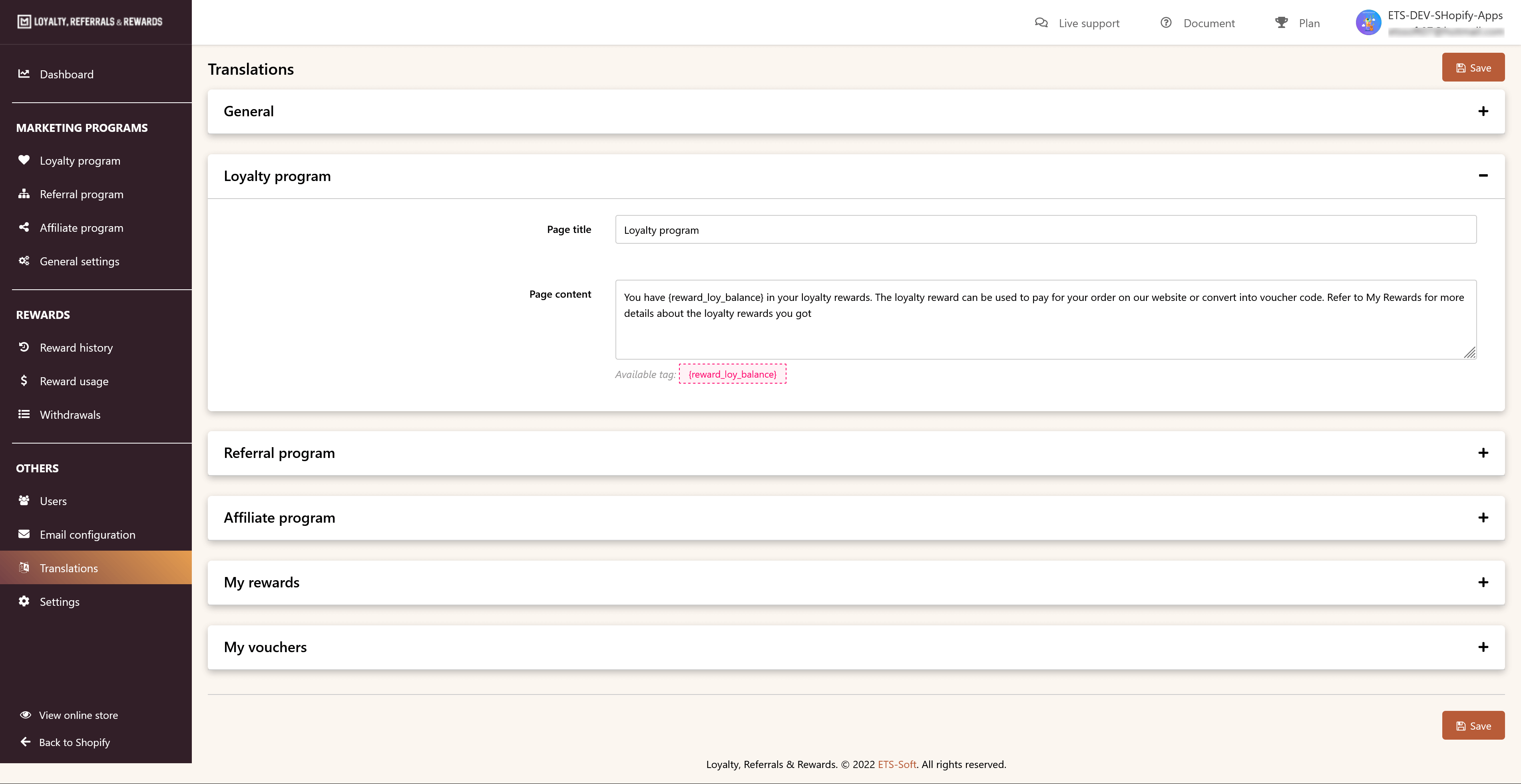 4.      Settings
You can set the display mode for the interface of application at storefront and other elements such as button text color, button background color, tab color, link color, etc.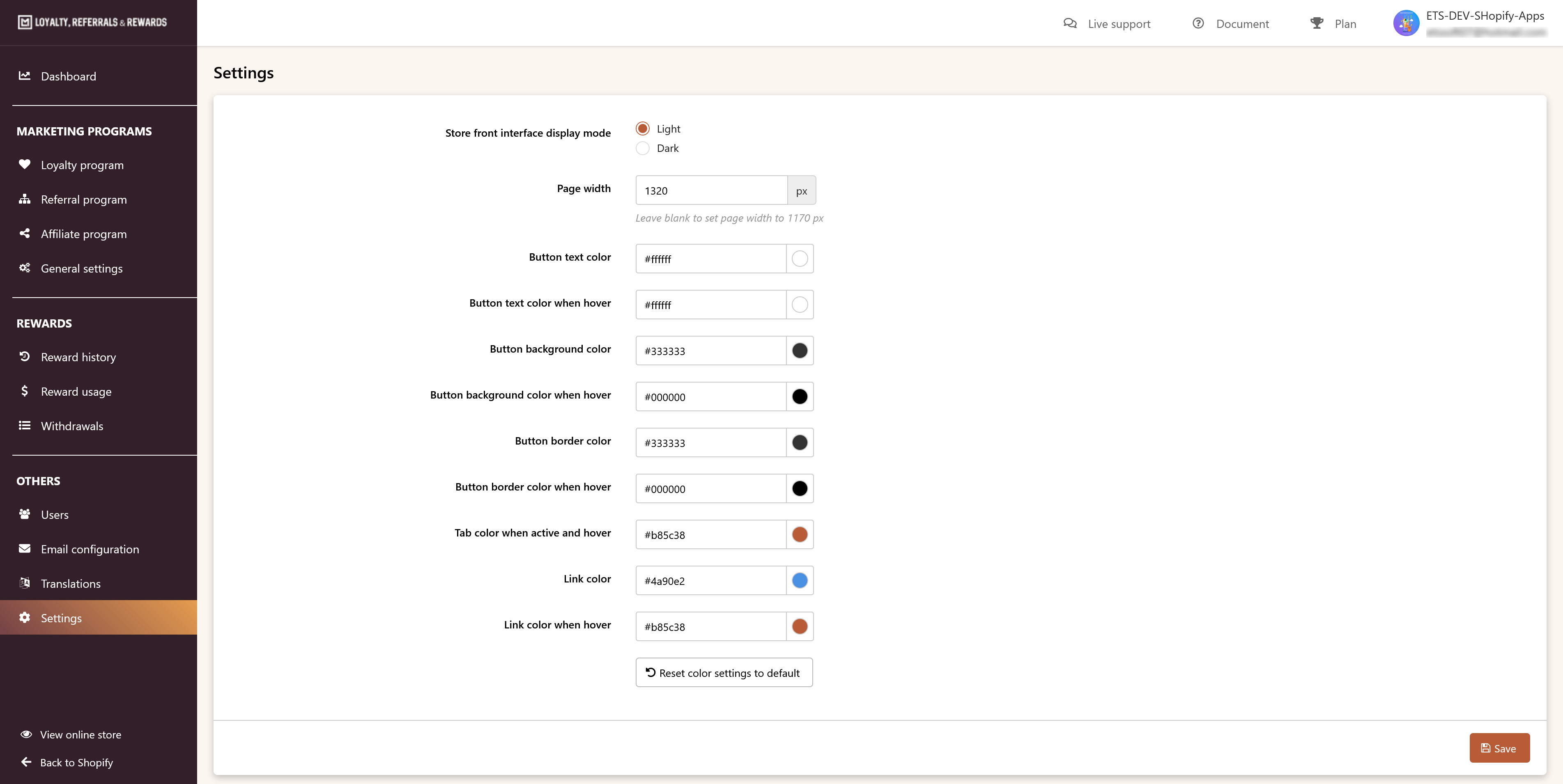 5.      Live support
If you have any problem using the app, you can navigate to "Live support" to contact the web developer. We are happy to support you solve the problems related to this app whenever you need it.
6.      Document
Click on "Document" to open this app documentation when needed.